Performance, Drivability & Efficiency. Simplified!

MegaLogViewer MS


MegaLogViewer MegaSquirt Edition
Quick Links:
VE Table Tuning Instructions
Change Log
Download JRE
FAQ
Download
Upgrade Registration
---
See the data, Tune it right
MegaLogViewer MS, MegaSquirt data logs simplified -
Not a MegaSquirt user or what the Premium MegaLogViewer, See MegaLogViewer HD





In today's world the most important tools for tuning are no longer found in your toolbox. Just think, in the 1980's Top Fuel dragsters made 2500 hp using a 500 cubic inch ( 8.2 Liter) Aluminum Hemi headed engine, as amazing as this might sound, today this same displacement and very similar looking hemi headed engines are making over 8000 hp! Why? It is all about optimizing all aspects of the engine to improving efficiency. This demands the tools to gather data so you can understand what is happening inside the engine and identify opportunities to improve efficiency.

Discover your ideal tune with MegaLogViewer MS is configured specifically for users of MegaSquirt or Monster Products.
Visualize your data to quickly identify problems or opportunities. Load both the data log and tune settings, viewing together. Capture long log files and easily navigate through the data, apply built in analytics, custom formulas and simplified views.
View and graph Log files hundreds of thousands of records or hours long.
VE Analyze - Unparalleled Analyisis of your log files and tune correct your fuel table for you.
View and Edit your Fuel, Spark and AFR tables from a big file.
Table cells marked for each record
Navigate quickly through Log files hundreds of thousands of records long.
Zoom in and out.
View any 16 grouped Replay Signals.
Compare mode - Overlay second file values
Play back of log files.
Create your own Calculated Fields - RPM/Sec, Vacuum, Boost, PW-1. See Advanced Math.
Play back of log files.
Scatter Plots to identify correlation .
Customizable colors, gauges and UI features.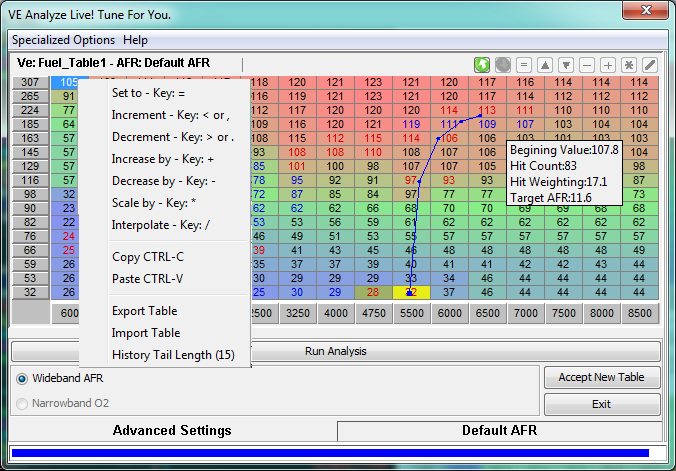 System Requirements - What you need
Support Windows 7, Windows Vista, Windows XP, Mac OSX and Linux.
Software - First get MegaLogViewer Download Here
Run Windows Installer (msi file), or Untar it to the directory of your choice.

Required a Java runtime environment (JRE), JRE 1.5 is required.
You probably already have one installed, but if you need a Java runtime it can be found at:
http://www.java.com/en/download/manual.jsp



Using
There are buttons to navigate through your log file.
However, For faster navigation the following keys are mapped:
Right Arrow - Advance 1 Record
Left Arrow - Back 1 Record
Page UP - Advance a graph page worth of records
Page Down - Decrease a graph page of records
Home - Jump to 1st Record
End - Jump to last Record
Up Arrow - Rescale graph, Zoom in
Down Arrow - Rescale graph, Zoom out
P - Play
S - Stop playback
+ - speed playback
- - slow playback


Drag Mouse on Time scale to get averages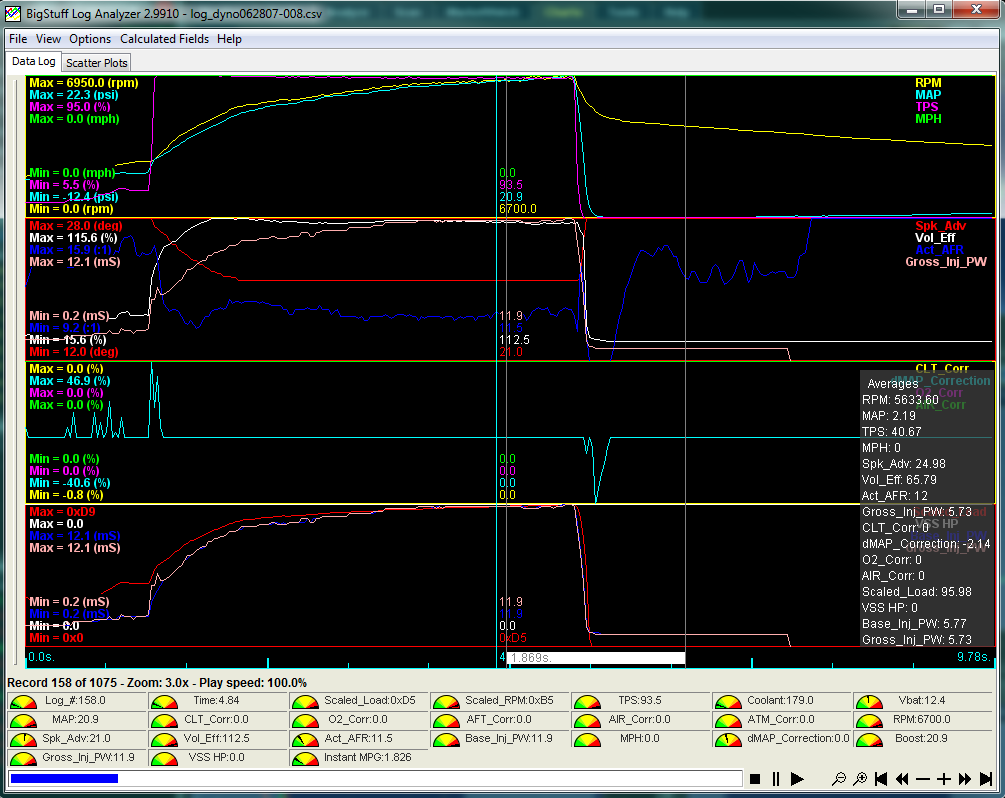 ---
©2006-2020 EFI Analytics